18.02.2019
myEnergy365 wins EnergieGenie award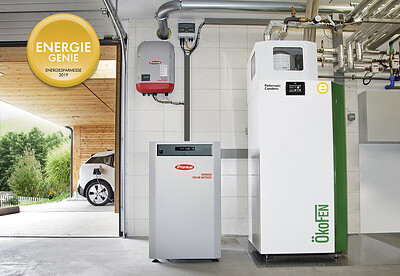 ÖkoFEN - known as the specialist for wood pellet boilers - won the Innovation EnergieGenie award of the Province of Upper Austria and the Federal Ministry for Sustainability and Tourism at the Energy Saving Fair Wels 2019 in recognition of outstanding services to the energy system myEnergy365. "We are very proud of the award and see it as confirmation of our efforts to advance the heat revolution with innovative projects," says Managing Director Stefan Ortner.
Innovation Award EnergieGenie for myEnergy365
Innovations are of elementary importance for a technically and economically secure future. This is particularly true in the areas of energy-efficient construction and renovation. This year, the innovation prize "EnergieGenie" of the Federal Ministry for Sustainability and Tourism and the Province of Upper Austria was awarded to the innovation myEnergy365 by ÖkoFEN. An independent jury of experts evaluated the entries and selected myEnergy365 as the winner. The EnergieGenie awards new, energy-technically innovative products according to the criteria innovation, energy saving and degree of novelty.
100% energy freedom
In order to achieve the greatest possible energy independence, ÖkoFEN developed the myEnergy365 energy system in addition to pellet boilers, which can be equipped with a Stirling engine for power generation, which also integrates power storage and photovoltaic systems. All data from the inverter, battery system and heating are linked, processed and visualised in the ÖkoFEN regulation with online weather data. With this system, homeowners can supply themselves with 100 percent ecological heat and self-produced solar and pellet electricity. Equipped with a power storage unit and inverter, the power-generating pellet heating not only supplies itself completely, but also supplies electrical energy that can be used or stored for other consumers. In the event of a power failure, the system does not require a mains supply due to the power generated by the photovoltaic system, the Stirling motor and the buffer function of the power storage unit, and thus functions independently. With its modular design, the consumer can switch step by step to 100% ecological heat and self-generated electricity. The freely combinable modules are pellet boilers with eReady package, photovoltaic system, electricity storage and, as a last step, the generation of electricity for the pellet boiler.