For trouble-free refurbishment of your heating system Chimney refurbishment pack and connection pipe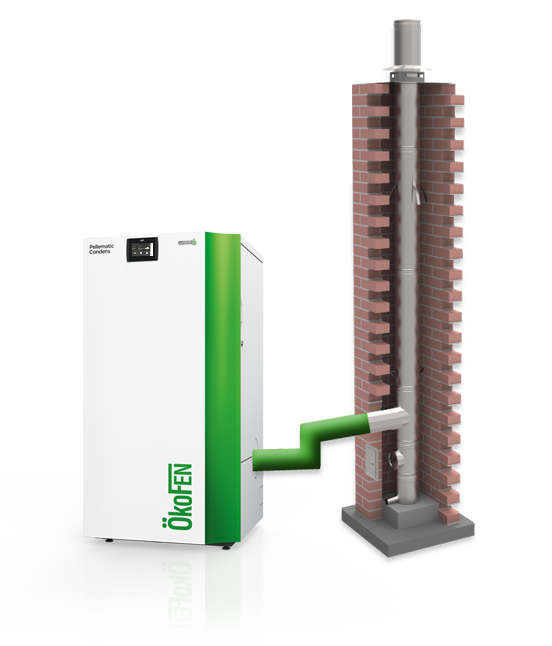 Alongside pellet heating systems, ÖkoFEN also supplies the suitable chimney system for your new pellet boiler.
Are your replacing your old boiler with a modern pellet condensing boiler or a conventional pellet boiler from ÖkoFEN? Our chimney packs provide you with a suitable and coordinated system from a single source.
The upgrade for your chimney
Contact your ÖkoFEN Partner
Notes for qualified contractors
MD system description
Single-walled, metallic-sealing, stainless steel flue gas system
Single-walled, tapered-section, metallic-sealing, soot-fire-resistant, stainless steel flue gas system for chimney refurbishment.
The components are made of a high-alloy stainless steel resistant to intercrystalline corrosion. The smooth-walled, rigid stainless steel elements feature an outwardly tapering coupling sleeve and a bead to interrupt capillary action. The bead also helps improve stability. The tapered design means that the plug-in connections are metallically sealed. This makes the system suitable for both underpressure and overpressure operation and seals it against condensate.
The structure at a glance
for better protection against escaping flue gas and condensate and no blocking of the condensate drain:
Metallic sealing – tapered plugging
Cleaning apertures fitted with sealed high-temperature cover
Condensate shell with DN50 connection (practical connection for HT pipe)
General information for planning the flue gas system
All details of the flue gas system design must be agreed in advance with the responsible flue gas inspector.
When planning and installing the flue gas system, pay careful attention to the planning documents and installation manuals for the flue gas system and pellet boiler.
The long elements of the MD system cannot be shortened.
The on-site design and installation of the flue gas system must comply with the applicable regulations and official requirements.
ÖkoFEN chimney refurbishment pack for trouble-free conversion to pellets.