Pelletronic Touch heating controller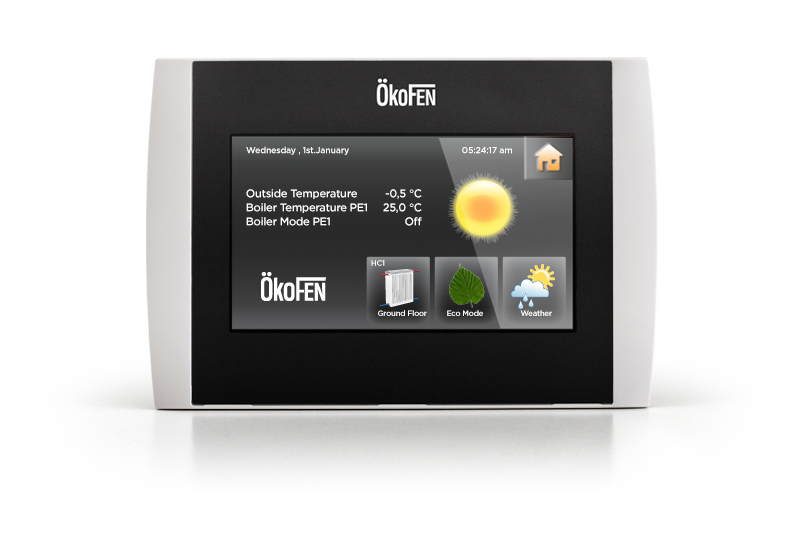 The Pelletronic Touch heating controller is the innovative interface between the various components involved in central heating and DHW heating.
Modern and convenient heating control
With an optimally coordinated system characterised by ease of use, ÖkoFEN has set the standard with its development of the Pelletronic Touch. This innovative heating controller organises your entire energy system. It also has a modern touchscreen control panel. The clear colour display facilitates intuitive navigation. You can very easily define how you want to distribute the heat in your home.
The heating controller that thinks for itself
With Pelletronic Touch, the myPelletronic app and online weather data evaluation, users have even more energy-saving options. And best of all: you can also control the Pelletronic Touch via the internet from a smartphone, tablet or PC. Any time, anywhere.
Intelligent technology, simple control
Online weather data: Regulates the heating system based on the weather forecast
myPelletronic app: Incredibly simple operation away from home as well, with automatic energy saving mode
WLAN function: No need for wiring in the boiler room
You can test the intuitive Pelletronic Touch heating controller here.
ÖkoFEN Touch-DEMO
Modern and comfortable heating control at the highest level.
The benefits of the Pelletronic Touch at a glance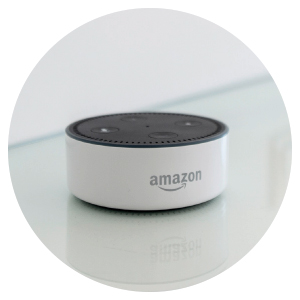 ÖkoFEN Kessel können über Alexa gesteuert werden

"Alexa, erhöhe die Raumtemperatur um 1 Grad!" – Mittels Sprachsteuerung oder App ist die Bedienung der Pelletheizung kinderleicht. Die intelligente Regelung lernt künftig auch mit: Pelletronic Touch stellt sich auf Ihre Nutzungsgewohnheiten ein und passt die Heizung automatisch an.
The technical refinements of the Pelletronic Touch
The Pelletronic Touch enables energy management of the entire heating system via one controller.
Schematic representation. Other installation variants are also possible and offered on an individual basis.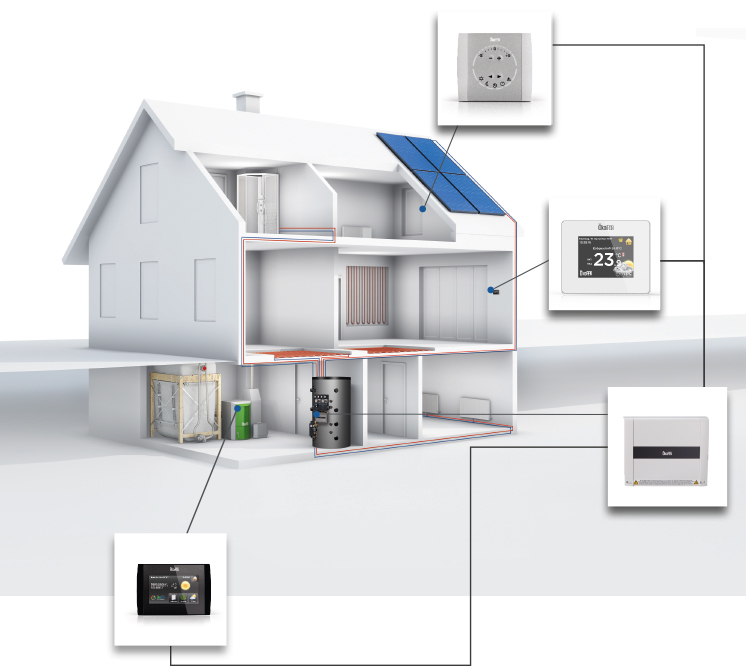 Room controller with LED display
for status, room temperature setting and day/night switching
RS485 bus connection cable
Touch room controller
for operating the heating controller from living areas, with all the functions of the Touch interface
Heating controller
expandable for up to 6 heating circuits, 3 boilers, 3 accumulators and 3 solar thermal systems, each with 2 solar circuits
Pelletronic Touch programming unit
included in boiler scope of supply
Excerpt from the technical data
Clear, illuminated graphic display (4.7 inch with 480 x 272 px)
Simple menu system with symbol and text display
Convenient operation from living areas via room controllers
Online weather data regulates the heating system based on the weather forecast
Including free app for straightforward online access and automatic energy saving mode
Convenient remote control and monitoring via internet
Individual temperature and time programs for each heating circuit and domestic hot water
Cascade control for multi-boiler systems
Integrated online function Internet connection possible via LAN or WLAN
Solar yield measurement for increased subsidies and optimum evaluation
Accumulator management including boiler delay in case of solar use
Software update via integral USB connection
Integrated frost protection, party and screed function
Specially designed for ÖkoFEN pellet heating systems in combination with a solar thermal system
Contact your ÖkoFEN Partner