Pellet condensing boiler Pellematic Condens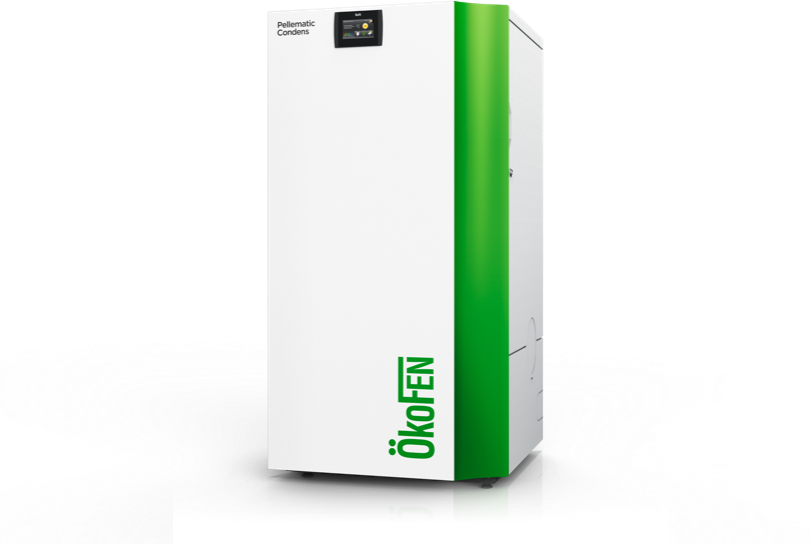 The Pellematic Condens condensing boiler sets new standards. With its pioneering Condens technology, the boiler makes it possible to use condensing technology in any heat distribution system: The innovative pellet boiler can also be installed flexibly in the event of higher return temperatures, which is often the case in modernisation projects.
Compact, highly efficient pellet boiler
Top efficiency levels of up to 107.3%, a compact design with a small footprint and the intelligent arrangement of all connections make the Pellematic Condens a unique appliance. It scores highly in terms of efficiency and space, thereby characterising a new generation of pellet boilers.
We would like to present the new dimension in pellet condensing technology
Thanks to the completely new concept of Condens condensing technology, the Pellematic Condens is the world's first pellet condensing boiler that can be integrated into any heat supply system. There is no need for a buffer cylinder either.
Its compact design, a small footprint the same size as that of a refrigerator and the intelligent, flexible arrangement of all connections make it adaptable to any boiler room.
Condensing technology means that the residual heat contained in the flue gases from pellet combustion is also harnessed.
Heating systems with condensing technology therefore utilise almost all the energy contained in the exhaust gases from pellets. This additional benefit of approx. 16.3% with pellets is simultaneously the energy saving made possible by condensing technology. This allows condensing boilers like the Pellematic Condens to achieve efficiency levels of up to 107.3%.
More about condensing technology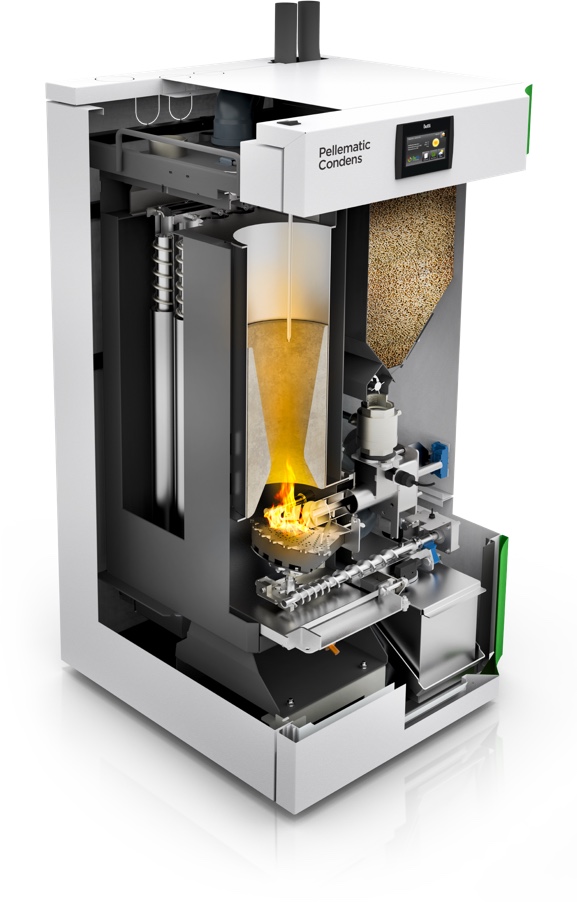 The benefits of the Pellematic Condens at a glance
Contact your ÖkoFEN Partner
The technical refinements of the Pellematic Condens.
The unique combustion technology developed by ÖkoFEN enables highly efficient combustion with low emissions, thanks to its three main components: multi-segment burner plate, combustion chamber sensor and negative draft control. Condens condensing technology has revolutionised the practicability of pellet condensing technology. As well as being suitable for high-temperature systems with radiators, there is no need for a buffer cylinder either.
Quick and easy installation: Hardly any dismantling work is required for transporting the boiler into the boiler room.
Optimum combustion: Tried-and-tested combustion technology is employed in all ÖkoFEN pellet boilers.
Condensing + conventional: The new Condens condensing technology allows the Pellematic Condens to be operated in any heating system.
Simple access for maintenance and cleaning
Pellet feed by vacuum suction system
Fully automatic heat exchanger cleaning carried out mechanically and with water
Stainless steel condensing heat exchanger with efficiency of up to 107.3%
Output and combustion control optimised by combustion chamber sensor (automatic fuel adaptation)
Hopper 50 litres / 32 kg
Proven burn-back protection
Negative draft measurement
Multi-segment burner plate
Electronic ignition with glow rod (250 W output only)
Comfort ash box 13.9 litres / 7.5 kg with compaction
Automatic de-ashing system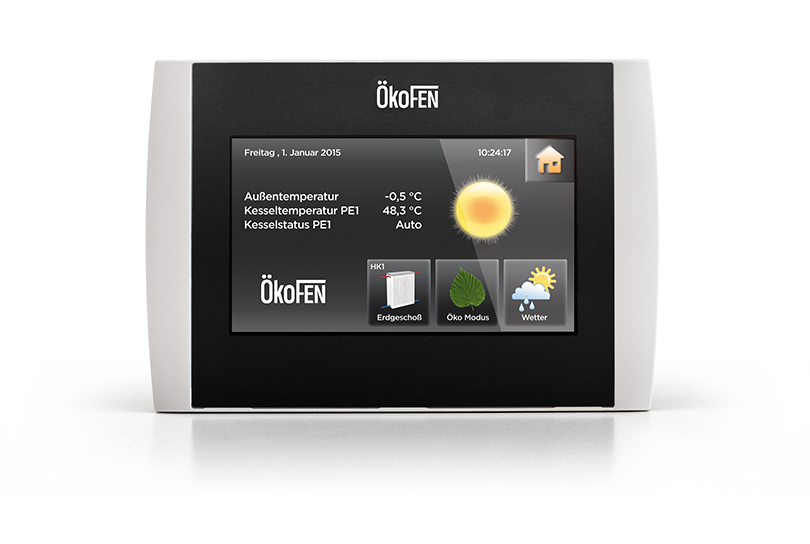 Touch Display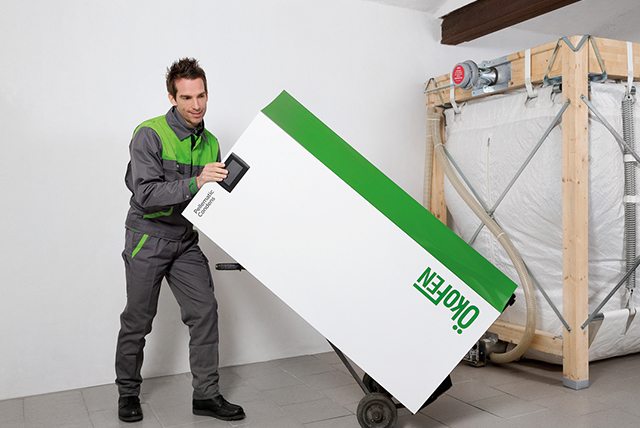 The new dimension in pellet condensing technology
Pellematic Smart XS