Heat accumulator Pellaqua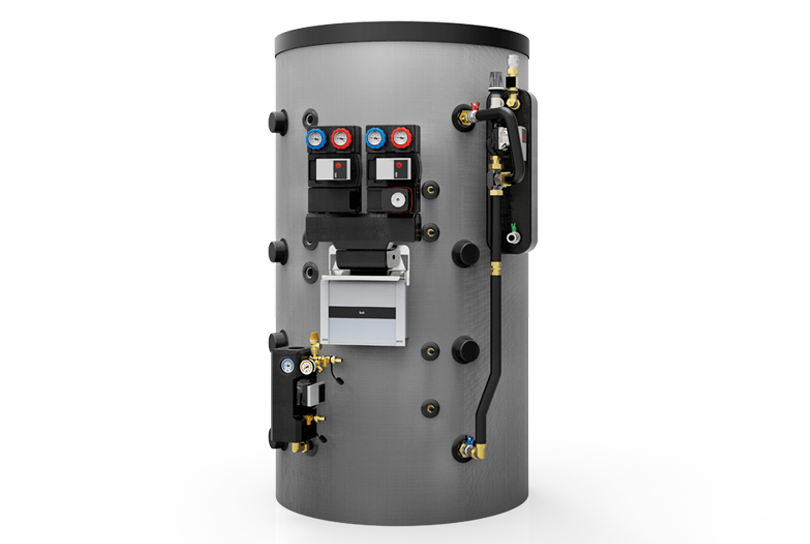 The Pellaqua cylinder range developed by ÖkoFEN is the optimum interface between your pellet boiler and the solar collectors. With their various layout options, the three different types of cylinder provide the optimum solution for your heating system.
The system cylinder is the absolutely versatile and powerful complete solution for your boiler room.
Cylinder sizes
600 litres
800 litres
1000 litres
1500 litres*
2,000 litres*
* Only as buffer cylinder with no DHW heating or heating circuit assemblies
To online product advisor
A buffer cylinder ensures maximum efficiency from your pellet heating system
The Pellaqua system cylinder:
It perfectly unites domestic hot water heating and central heating using pellets and solar.
Standard equipment
Buffer cylinder made of high-grade steel
Return stratification conduit in all models
8 coupling sleeves with 1½" female thread
Connections arranged at 90°
4 sensor couplings for ½" sensor well
5 sensor holders for contact sensors
1x ventilation 1½" female
Floor insulation
100 mm fleece insulation
4x connector insulation
Operating pressure: 3 bar
Max. operating temperature: 95 °C
Options
Stainless steel corrugated-pipe heat exchanger
Fresh water module
Up to two heating circuit assemblies
Contact your ÖkoFEN Partner