17.04.2021
myPelletronic 2.0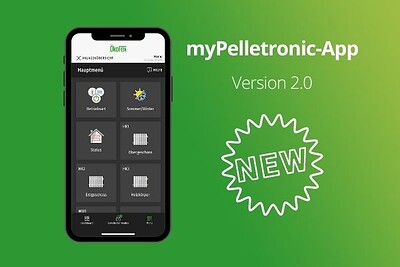 Discover the new version of the myPelletronic app!
The myPelletronic app from ÖkoFEN offers convenient and intuitive heating control - at any time and from anywhere.
Now we have updated it and adapted it even better to your needs.
Top functions at a glance:
Multi-System:
Unlike the previous version, up to 3 heating systems can be managed simultaneously. To do this, you need to create your own user account with email address and password during the registration process.
Overview:
You have an immediate overview of whether everything is in order with your systems (offline, faults, etc.).
Notifications:
Push notifications alert you to important information about your heating system.
Simple menu navigation:
The user interface in the app is identical to the heating control panel.
Easy to use:
The dashboard shows the same individually configurable start screen as the heating control panel (from system software V4.0).
Help:
Help texts are shown directly in the app to match the screen displayed.
Compatibility:
The app is compatible with all older software versions (from Touch 2.0).
Remote maintenance:
In case of problems, the service partner can be granted temporary access to the app. This is intended to enable even faster troubleshooting.
News function:
We keep you up to date with the news display in the app.
All further information and download options for the myPelletronic app can be found here: