18.12.2019
Cooperation with UNICEF Austria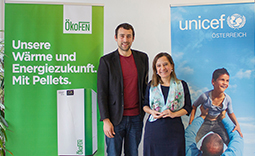 ÖkoFEN Managing Director Stefan Ortner and UNICEF representative
Dr. Anna Gudra are pleased about the future cooperation.
ÖkoFEN, Europe's specialist for pellet heating systems, is taking on social responsibility as a partner of UNICEF Austria and starting a long-term cooperation with the United Nations Children's Fund. In doing so, the austrian-based company is not only working for a better future in the field of energy.
ÖkoFEN Managing Director Stefan Ortner explains why: "With our daily work and our products, we make a valuable contribution to climate protection. In many regions of the world, however, the effects are already being clearly felt and are increasingly leading to crisis situations. Many people, especially children, suffer from the lack of access to clean water. Since children are our future, we have decided to bundle our social commitment with this cooperation with UNICEF Austria."