09.06.2021
Clever pellet local heating system with ZeroFlame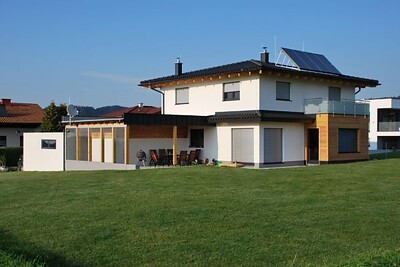 A partially renovated old building and a neighbouring new building in Upper Austria are supplied with energy via a local pellet heating system and solar thermal energy.
The initial situation
Originally, the new building was heated with an eligible pellet boiler. However, the boiler and chimney required frequent maintenance due to the high flue gas temperatures. The pellet tank also had to be refilled during the heating period, as the volume of the tank was too small for the pellet consumption at the time. In the course of the partial renovation and the completion of the new building, an ÖkoFEN condensing boiler in the integrated heating container now provides energy for both buildings. The old building is connected to the heating container via a 50-metre-long local heating pipe.
Significant savings
The maintenance interval of the system and the inspection interval of the chimney sweep could be reduced to once a year thanks to the new boiler. The new space-saving ÖkoFEN fabric tank holds 7.5 t of pellets and no longer needs to be refilled during the year. In addition, there are significant savings in operating costs thanks to the use of highly efficient condensing technology, eco-mode and the evaluation of live weather data from the site.
Fire without flame
The Pellematic Condens system used can be integrated into any existing heat delivery system due to the unlimited return temperatures and impresses with up to 15 percent more efficiency. The boiler is also equipped with the innovative ZeroFlame technology. The specially ingenious airflow guidance and enrichment in combination with the special combustion chamber design ensure a very special effect. The flame disappears almost completely, reducing particulate emissions to a minimum. All that remains is heat and clean air.