23.09.2021
We are expanding internationally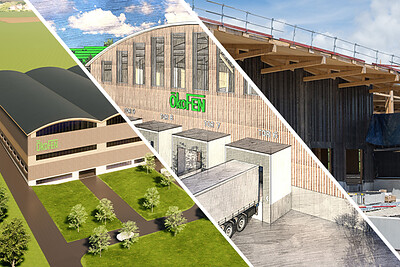 Heating with pellets is booming. In order to keep up with the increasing demand for our products, we are busily expanding and enlarging our ÖkoFEN sites in Austria, Germany and France.
Niederkappel - Austria
Our European headquarters in Niederkappel are being expanded with a 14,000 m² modern logistics centre. The extension not only creates the urgently needed space for production, but also 50 additional jobs.
Since mid-May, the former field next to the headquarters has been prepared for the upcoming construction. The excavation work, including blasting and cable laying, has been completed. Now the foundation work for the extension has begun. The rock removed during the earthworks will be crushed and reused for the substructure of the building. This avoids additional transport routes.
Mickhausen - Germany
Not only in our head office in Austria we are busy expanding. In Mickhausen in Germany, work has also begun on the new extension. The existing area will be extended by almost 3,000 m². The 85-metre-long hall extension will provide sufficient space for product storage, four additional loading locks and logistics offices.
St. Baldoph - France
ÖkoFEN France also started construction of the new building in spring. The 7050 m² site will house logistics, offices, a training room and a showroom. The building, made of timber construction with sustainable insulation, triple glazing, rainwater recovery and pellet central heating, is scheduled for completion at the end of the year.