15.12.2021
Space miracle needed - and found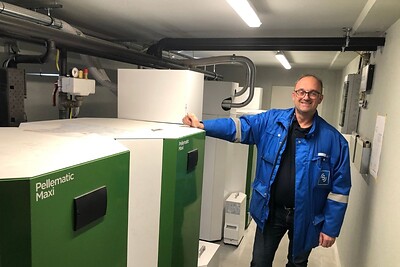 For the roofing company Schmidhofer from Altenfelden, Upper Austria, an environmentally friendly alternative to the old oil heating system was needed. The commissioned installer found the optimal solution: a pellet heating system. But the situation was tricky, because a pellet system was ideal in terms of the environment and customer needs, but where to put the wooden energy rolls? "We often use the space where the oil tank used to be. But in this case that was not possible. But the customer didn't want any elaborate additional buildings either," the installer explains.
Together with ÖkoFEN, a quickly realisable, space-saving and cost-effective solution was found: a two-storey container system made of concrete. The seven-metre-long, three-metre-wide and five-metre-high ÖkoFEN Energybox houses four pellet boilers, each with a heating capacity of 56 kW, on its ground floor and a pellet store with a storage volume of around 22 tonnes of wood pellets on the upper floor.
An additional advantage of this heating solution: "The energy supply never had to be interrupted. The old heating system could remain active until the day of the changeover," says the installer. "Schmidhofer has been a customer of ours for 25 years. I am very happy that we were able to satisfy them very much with our work again this time!"