17.06.2020
ÖkoFEN dedicates the 100,000th pellet heating system to UNICEF Austria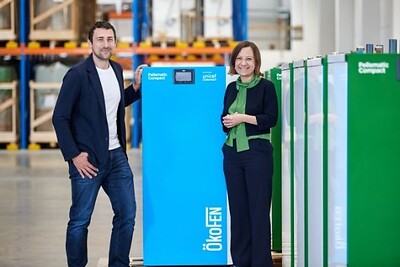 ÖkoFEN Managing Director Stefan Ortner and UNICEF Austria representative
Dr. Anna Gudra with the 100,000th pellet heating system in the UNICEF special design.
With over 30 years of experience in renewable heat, ÖkoFEN is regarded as Europe's specialist for pellet heating systems. The great export success, but also a strong increase in demand in Austria, led to a sales growth of more than 40 percent in 2019: Now the total of 100,000th pellet heating system was produced by ÖkoFEN. The pellet heating specialist from Austria is using this anniversary to strengthen its partnership with UNICEF Austria, which has been in place since the previous year. The anniversary boiler was produced as a UNICEF Austria special edition and the proceeds will be donated to the United Nations Children's Fund.