18.02.2019
ÖkoFEN at the world's leading trade fair ISH 2019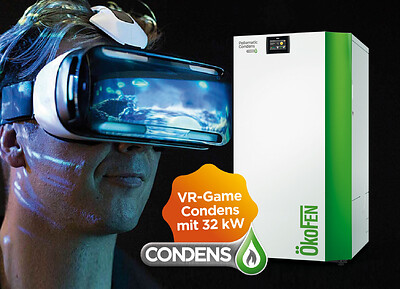 New highlights from the wood pellet condensing boiler pioneer
ÖkoFEN presents numerous innovations at the ISH: The future version of the Pellematic Condens - Germany's best-selling pellet condensing boiler - the Pellematic Maxi in a revised design and with new technical features, an extended range of services and the "myEnergy365" energy concept for year-round electricity and heat from pellets.
The Pellematic with Condens technology is one of the best-selling pellet condensing boilers in Germany. According to a BAFA survey, almost 70 percent of the subsidised pellet condensing boilers come from ÖkoFEN*. Europe's specialist for pellet boilers is now taking the next step by presenting an additional 32 kW output of the popular series for the first time at ISH Frankfurt (Hall 11.1, Stand E05). This will be available on the market from 2020. The future version can not only be viewed from the outside at the stand, but also from the inside via Virtual Reality Game.
The Pellematic Maxi, the compact large boiler with an output of up to 64 kW, will also be on show for the first time in a fresh, straightforward design. It also has new, intelligent technical features for ash removal from the burner plate and ash discharge as well as pellet consumption measurement.
In addition, the electricity-generating pellet boiler including the intelligent energy concept "myEnergy365" and the entire condensing boiler range of 4-512 kW will be on display.
Extended service program for partners and customers
ÖkoFEN is also continuously developing its service programme. Beate Schmidt-Menig, ÖkoFEN Marketing & Sales Director: "Our success is not possible without well supported and competently trained specialist partners. This is why ÖkoFEN offers more services than ever before with its new hydraulic schema configurator, 3D heating room planner, energy label calculator, assembly service, virtual customer service and time-saving, free Webinars 2019".

ÖkoFEN at the ISH in Frankfurt:
11-15 March 2019 / Hall 11.1, Stand E05.

*BAFA statistics for 2017