04.01.2022
More than just hot air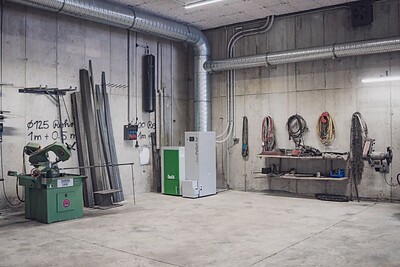 The company Pölzleitner, a specialist for wood recycling and waste wood utilisation in Abtenau in Salzburg, decided to switch the heating of its truck workshop from oil to pellets in spring 2020. Since the company itself is involved in sustainability and environmental friendliness in cooperation with Salzburg Pellets and Holzenergie Abtenau, it was essential for Pölzleitner to also heat its own garage in a climate-neutral way in the future.
Pölzleitner has a stake in the company Salzburg Pellets, so it was an obvious choice to have a pellet heating system from ÖkoFEN installed. Together with the installer Schwaighofer & Angerer from Annaberg, the project was implemented in March 2020. Before the heating system was replaced, the 600 m² garage was only heated with oil as needed. The Pellematic Air now installed manages with approx. 5 tonnes of pellets per year and ensures a reliable and sustainable heat supply. The short distance to the nearest pellet plant makes heating with pellets even more attractive and facilitates the supply of the little bundles of energy. In keeping with the climate-friendly heat supply, the company also focuses on sustainability in the areas of mobility and power generation.
"With our new heating system, we are pleased to be able to combine the best fuel for us with the most efficient technology," says Pölzleitner Managing Director Anton Pölzleitner.