24.06.2021
Handcyclist Egger
9th in the World Championships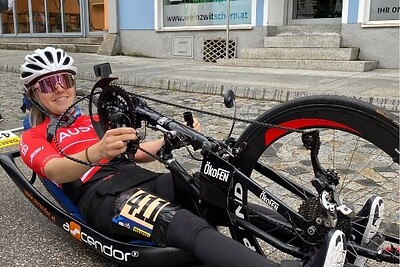 The highlight of the season
In the coastal town of Cascais, west of Lisbon, there was a lot going on at the beginning of June. The UCI Paracycling Road World Championships 2021 with more than 300 athletes from over 39 nations took place at the famous Formula 1 circuit of Estroil from 09 to 13 June.
Hand cyclist Elisabeth Egger from Upper Austria was also at the start of this race and proved her athletic ability. Unfortunately, she was in poor health and despite strong winds, she took to the ring for the first individual time trial over the 16 km course and was able to achieve a good 9th place. The next day of competition was the circuit race. In blazing sunshine, the course led 42 km around the Formula 1 ring. Elisabeth also finished this race with a 9th place in the strong starting field.
Best world ranking result
At the beginning of May, the Paracycling Road World Cup took place in Ostend, Belgium. Elisabeth was able to achieve her best World Cup result so far with 7th place in the circuit race. We sincerely congratulate Elisabeth on this great sporting achievement and are pleased to be able to support her in her races this season as a sponsor.