05.09.2022
Company childcare during the holiday period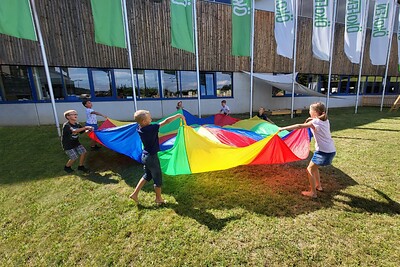 ÖkoFEN sets an example and supports working parents again
Parents know that childcare for children - especially those of kindergarten age - is often a challenge during the summer months. ÖkoFEN is helping out its employees and has now organised the ÖkoFEN Summer Kids Club for the second time.
Needs-oriented and professional
The creatively designed and time-flexible childcare programme celebrated its premiere at ÖkoFEN last summer and was organised again this year at the Niederkappel site. In cooperation with the Upper Austrian Family Association, trained educators were again on duty during the three-week programme.
All parents with children aged three to 12 could benefit. A large part of the costs for the care, including handicraft materials, excursions and a warm midday meal, were covered by the company.
Beaming faces and muddy hands
Time in nature, making new friends and creative handicrafts kept the youngest ÖkoFANs busy in the past weeks. The in-house playground was redesigned with a lot of dedication and attention to detail and provided a safe place for the children, along with the specially equipped recreation rooms.
"Since our summer care was so well received last year, it was clear to us that we wanted to offer this great activity again this year. It is great to see how the children blossom with us and storm the company with beaming faces in the morning," reports Managing Director Stefan Ortner.
ÖkoFEN scores as an employer not only with the already nationally known benefits and a pleasant working atmosphere. The relief for working parents also underlines why we were awarded the title of Top Employer this year.