27.10.2021
Booked pellet heat at the Böhmerwaldpark Golf Club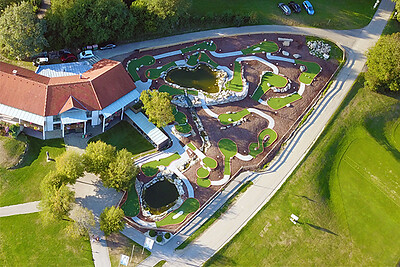 The idea of climate protection has reached the centre of society and is therefore also motivating more and more commercial and gastronomic enterprises to rely on environmentally friendly forms of heating.
The popular Böhmerwaldpark in Ulrichsberg, Upper Austria, has also completely renewed its heating system in the course of a comprehensive renovation. Since then, the idyllically located golf club with its leisure park and restaurant has been supplied with heat on the basis of a heat supply contract with a 112 kW pellet heating system including a comprehensive service package.

The Böhmerwald Park relies on renewable energy
The Böhmerwald Golf Park in Ulrichsberg has opted for 100% renewable energy just in time for the start of the heating season. Until recently, the 280 m² building, which was erected in 1991 and houses the administration of the golf club as well as the restaurant, was only heated by night electricity for frost protection and by a tiled stove in the transitional period. After no guests were allowed to be received in the first half of the year due to corona, the management decided to invest and extensively renovate for the time thereafter. In addition to the redesign of the restaurant and the façade, the installation of a heating system was a central component.
The pellet heating system including buffer is housed behind the golf club in an ÖkoFEN energy box and thus did not require any structural extensions. The heating centre houses the boilers and the pellet store. The heat reaches the administration building and the restaurant through an underground heating pipe. Another advantage is the fail-safe nature of the double boiler system: if one boiler fails, the second one immediately takes over its function.