13.01.2022
Awarded with the Austrian Sustainability Award 2022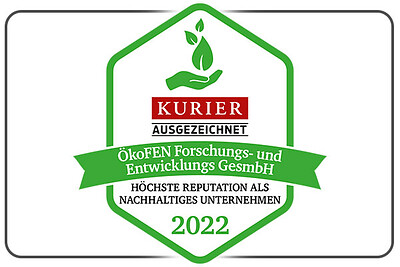 Champion of sustainability
The topics of sustainability and environmental protection are becoming increasingly important in our society. Not only private individuals, but above all companies - and above all ÖkoFEN as a manufacturer of ecological heating systems - therefore want to take responsibility and support ecological measures.
In the course of a study by "Milestones in Communication" and the "IMWF Institut für Management- und Wirtschaftsforschung GmbH", supported by the Kurier, 2,000 Austrian companies were analysed to find out who puts their sustainable image into practice. In the period from September 2020 to August 2021, they looked at all forms of corporate communication -> social media, blogs, forums, news media, websites and much more.
The evaluation criteria were:
Ecological sustainability = the use of natural resources and raw materials, environmental protection and recycling.
Economic sustainability = health and safety of employees, gender equality and gender pay gap.
Social sustainability = integration and inclusion, social commitment, human rights and children's rights.
Only 140 of the 2,000 Austrian companies tested received the award for the highest reputation as a sustainable company. "We are proud that ÖkoFEN has been awarded as a sustainable company in the area of production & industry. We want to continue to set an example in the future and drive the energy transition forward," says ÖkoFEN Managing Director Stefan Ortner.