05.10.2018
Award "Energie Star" for ÖkoFEN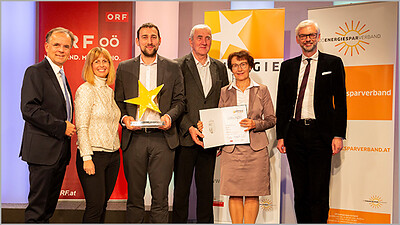 Every year, the Energie Star is awarded to projects that bring Upper Austria a step closer to its goal on its way to becoming the leading region for energy technologies. ÖkoFEN won the Energie Star in the category "Energy innovation - on site and on the move".
"Electric cars for everyone" is the motto of the profitable ÖkoFEN Clean Mobility Program. The award was presented to ÖkoFEN for its efforts in the field of electromobility. All at once, 25 percent of the workforce was equipped with an electric car.
In addition to purchasing the electric cars, the charging infrastructure at the Niederkappel and Lembach sites was expanded from eight to 26 charging stations to facilitate the changeover. In addition, the generation of electricity was also considered. Several power-generating pellet heaters are in operation at the two company headquarters, and the PV areas have also been expanded and battery storage facilities installed. "With this overall system, we can generate the majority of the electricity required for electric mobility ourselves, even when the sun is not shining. The special extra for the employees: They can charge their cars with renewable and self-generated electricity free of charge during working hours," explains Stefan Ortner.