06.10.2018
Action "Wood Pellets against climate change"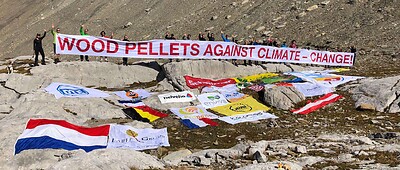 Floods at the glacier - Our climate in danger.
The glaciers clearly show how frightening the effects of climate change are. A flood mark has been set at over 3,000 metres in the Swiss mountains, on the disappearing Wildhorn glacier. The call for help from the disappearing glaciers was answered by 50 activists and heads of the European wood pellet industry for this vigil action against climate change.
It's an extraordinary energy peak on the glacier! The campaign "Wood Pellets against climate change" would like to show with the flood marking failures with the energy turnaround in the heating cellar. A flood marker? Yes, because the melting glaciers are a reason for the rising sea level. There are many measures that can be taken to slow down or prevent the melting of glaciers. An underestimated one is the use of renewable energy for heating buildings. One third of the total energy input in Austria is used for space heating! Renovations of buildings and the sensible use of renewable fuels can therefore make an important contribution to climate protection!
Among the activists, the founder of the organisation "Plant for the Planet" will take part in the summit. Only recently, at the age of only 21, he was awarded the Federal Cross of Merit by the German Federal President Steinmeier. For Austria, Christian Rakos, Managing Director of the Austrian Pellet Association, was a surefootee at the glacier. "I am delighted that so many have followed the call of the organisers. The energy consumption of heatings and the reorganization of buildings must come more strongly into the focus of the policy. The use of domestic wood pellets is in most cases a meaningful alternative to oil or gas heatings.
A positive example in the fight against climate change is the Anzère holiday village in Valais. From a total of 8,000 beds, more than 4,000 are now supplied with heat from the district heating network fired with wood pellets. 52 buildings, including a spa & wellness centre, receive local heat all year round, thus ensuring local employment and added value.

Source: www.propellets.at