24.03.2021
A strong uphill climb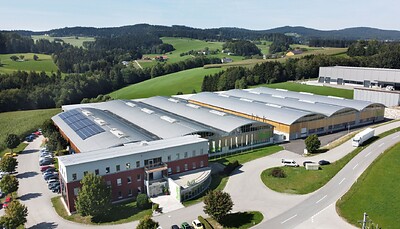 Focus on the essential
"After all, you want to do something that makes sense" - says ÖkoFEN managing director Stefan Ortner. He experienced the hard years of building up the company at first hand and was therefore of the opinion for a long time that he did not want to join the company. But then he changed his mind and sees himself on the right path with ÖkoFEN.
"Our claim is to be the technology leader - if you want to be the best in one area, you can't do four things at once," he emphasises. As a specialist and pioneer in heating with pellets, ÖkoFEN is preparing for a rapid increase in 2021. The climate and the environment are becoming more and more important - and so is heating. Around 14,500 pellet heaters left the production line in 2020 last year, and this year an increase to 18,000 to 20,000 pellet boilers is expected. Most of the individual components are manufactured by ÖkoFEN partner companies and assembled at the headquarters in Niederkappel in Austria.
Fill up with electricity from pellets
The low-energy building of the headquarters in Niederkappel (Upper Austria) is powered by 100 % green electricity from hydropower and solar energy. However, not only the building is supplied with clean electricity, but also the largest e-car fleet in the region. 30 ÖkoFEN employees are on the road with e-cars that can be charged with sustainably produced electricity directly at the company headquarters. "I think we will need more charging stations there in the future", says Stefan Ortner.