04.06.2019
30 years anniversary of ÖkoFEN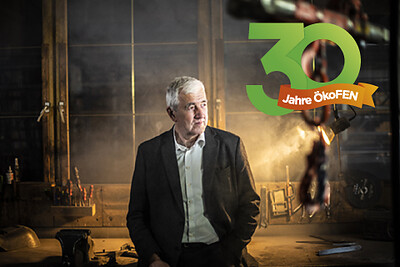 The history of ÖkoFEN is the story of a pioneer.
On October 27, 1989, the ÖkoFEN Forschungs- & Entwicklungs GesmbH was founded with headquarters in Lembach in Mühlkreis. At that time, Herbert Ortner quit his job and started to develop and produce environmentally friendly heating systems in the former cowshed of the in-laws with three employees. The company grew step by step and since the presentation of the world's first type-tested fully automatic pellet boiler in 1997 has become the innovation engine and export emperor of the wood pellet boiler industry.
As a result, ÖkoFEN constantly set new technical milestones and became a global specialist in pellet heating technology. About 90,000 modern pellet heating systems have been installed since the company was founded and have resulted in a CO2 reduction of more than 6.5 million tonnes!
Celebrate this anniversary with us and immerse yourself on the specially designed anniversary website in a genesis of a special kind.
Win one of the attractive prices!
Owners of an ÖkoFEN wood pellet boiler can, for example, can win a trip to Argentina to the world's most far-fetched ÖkoFEN pellet heating system including flight, hotel and Iguazu Falls for 2 persons.